Welcome to Raggedy Creek Ranch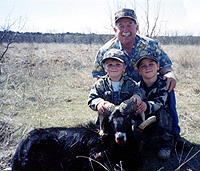 Raggedy Creek Ranch is owned and operated by Rusty & Malinda Moore. Situated on the Rolling Plains of Northwest Texas we offer some of the finest Texas hunting for whitetail deer, turkey, quail, wild hog and record class exotic game available. The main Ranch is located just a couple of miles north of Crowell, Texas. It sits in the cedar and mesquite covered hills and canyons that make up the rugged terrain of the Pease River country of Foard County, Texas. Rocky bluffs, canyons and thick creek bottoms make for a challenging hunt for all sportsman. We hunt over 20,000 acres of the best Texas has to offer hunters.
We are a complete hunting Ranch, offering hunts with a rifle, bow hunting and black powder. Raggedy Creek Ranch maintains a variety of Native and Exotic game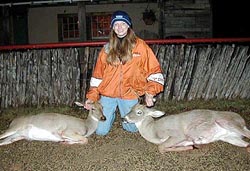 which are managed for trophy proportions. Our fully guided Texas whitetail rifle hunts are conducted on an 18,000 acre ranch.  The North Wichita River winds across the entire southern part of the ranch. The rest of the ranch has several creeks, including Middle Beaver Creek and South Beaver Creek, which act as superhighways for game travel. We feed year round to ensure the best possible horn growth and body weight we can achieve on these free ranging animals. We can accommodate individual hunters as well as large groups of hunting buddies.
For you bow hunters, we maintain a separate 1000 acre bow only ranch just for you. Our stands and feeders are set up with the bow hunter in mind. There are absolutely no rifle hunts conducted on this property! Whether it's whitetail deer, Rio Grande turkey or wild hogs, you can be assured that only bow hunters have been hunting this Texas ranch before you.
We also offer limited hunting for New Mexico pronghorn antelope hunting on a private ranch we have hunted for many years. These hunts have run a 100% success rate in the past three years.
All exotic hunts are fully guided and are conducted safari style or by stalking on foot. We have a large assortment of trophy class Corsican, Mouflan, Black Hawaiian and merino rams, Fallow deer, Axis deer, Red deer, American Bison (Buffalo) and Sika deer within the high fenced portion or our Exotic hunting ranch. Other hunts are guided or semi-guided from tripods or tower stands. Our guides will see that your hunt is enjoyable and safe as well. We don't charge daily guide fees but if your guide has done a good job and you feel a tip is in order, it would be appreciated.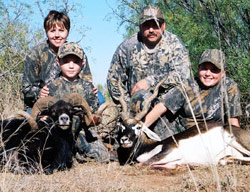 If you hunt as a family, then this is the place you will want to come. We pay special attention to children. Everyone at Raggedy Creek Ranch will go the extra mile to see that a child has the true Texas hunting ranch experience of a lifetime.  We are aware that the
future of hunting lies with the children of today. Be sure and ask us about our Youth discounts and "Texas Special Youth Season Hunts". 
We have several different hunting packages available, take a look around our site and you are sure to find one that fits your needs. Please contact us if you have any questions or comments.
Thanks for visiting the Raggedy Creek Ranch web site. Please return soon!
Rusty & Malinda Moore