If you are searching for the opportunity to take a free ranging Trophy Whitetail Deer, then search no more. We want our hunters to take the very best whitetail they possibly can, therefore we go the extra mile. Be sure to visit our photo pages to get a look at all types of trophy animals taken on many previous hunts.
Our Rio Grande Turkey numbers have soared over the past few years. With plenty of cover, multiple creeks and miles of river, daily sightings are very common. Spring turkey hunting is a blast!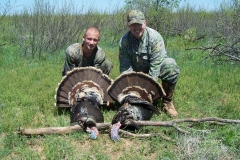 The Crowell area has boasted for many years as being the "Wild Hog Capitol of the West". With the population explosion of the past years in our feral hog herds, it's no wonder! In recent years feral hogs have come to occupy almost every county in the state and we have more than our fair share, right here in Foard County. Also our hunters are starting to see and take a few Javalina each year. These are available as part of your whitetail package.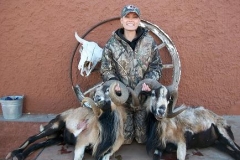 We try to provide exotic hunts to fit everyone's pocket book, from the non-trophy animals to the Gold Medal Record Class animals. We have numerous trophy sheep, which include Painted Desert,Texas Dall, Black Hawaiian, Corsican, Merino and others. Also available are, Red Deer, and more. When ever you get hit with "Hunting Fever", you don't have to wait for the Fall. Contact us anytime of the year, we're always ready to go hunting!